You are here
"Portugal is not a country of fear; it is a nation of solidarity"
Catarina Martins' New Year message focused on the international situation.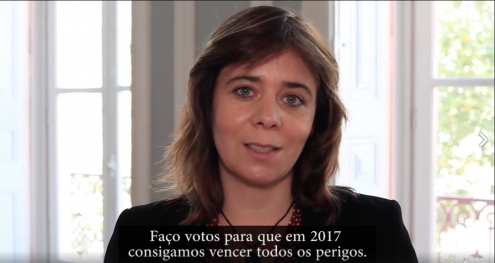 Catarina Martins, the Left Bloc's national chairwoman.
Here's Catarina Martins, Left Bloc's national chairwoman, full New Years message in English:
Just like last year, 2017 will be a year filled with danger. The greatest of all is the danger of fear. In 2016, the European Union failed at everything, the worst being human rights.
Sought out by those who were escaping war and terrorism – and many did not escape – Europe did not step up to help the victims. Instead of providing refuge and protection, it forgot its humanitarian promises. Europe closed its borders.
On one hand, the Union supported the Turkish dictator in holding refugees in concentration camps. On the other hand, it left its poorest country, Greece, to fend for itself in a real humanitarian crisis.
In the final weeks of the year, the genocide continued to take place in Syria and Iraq. Cities that were once among the most modern and prosperous of the Middle East are now reduced to rubble. While Europe, Russia and the United States move their pawns in the region, bombings and chemical weapons continue to slaughter the inhabitants of Mosul in Iraq, and Aleppo in Syria.
We cannot stop the humanitarian disgrace in the Middle East alone. However, Portugal can set an example in Europe, by welcoming refugees with open arms, with the generosity that the petty European elite lacks.
We are a country with a sense of humanity, and it is this strength that overcomes all fear, all politics of hatred, all demagogues, walls and barbed wire.
In 2016, Portugal proved to Europe that punishing the poorest is not always inevitable. In 2017, we must show that we will do our bit against war mentality and in the support of refugees. Portugal is not a country of fear; it is a nation of solidarity.
The video, in Portuguese, can be seen here: